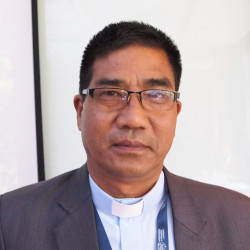 U Rev DC Haia, uba long uwei na ki Pastor jong ka Balang Presbyterian ha ri India, u la shah jied kum u Moderator ba thymmai jong ka Council of World Mission (CWM). Ia u Pastor Haia, la jied ha ka Assembly jong ka CWM, kaba la long ha ka Jeju, South Korea. Ia u Rev DC Haia la pynkyntang ha ka snem 1987. U la pynkylla ia ka Kotbah Phareng bad Greek sha ka ktien Biate.
Rev D.C.Haia Darnei, the newly elected CWM Moderator was ordained in Presbyterian Church of India (PCI) in 1987. He is married to Rohluopuii and they have two daughters. He translated the Bible from English/Greek to Biate language and it was published in 2005 and revised in 2015. As Moderator of CWM he hopes to work together with member churches and the secretariat 'to do great things for human kind and creation.' He hopes to tap the wisdom and experience of senior members. He hopes to harness the enthusiasm and energy of the youth to build a better world. to love and care for all, using women as a model.
The Council for World Mission is a worldwide partnership of Christian churches. The 31 members are committed to sharing their resources of money, people, skills and insights globally to carry out God's mission locally. CWM was created in 1977 and incorporates the London Missionary Society (1795), the Commonwealth Missionary Society (1836) and the (English) Presbyterian Board of Missions (1847).